On the first Friday of Session 3, counselors and campers arrived to camp donning capes and masks for a new special event- Superhero Quest.  Batmans chased Supermans around the stakes as their capes billowed behind them in the early morning air.  During a morning dodgeball game, a camper dressed as the Hulk, fittingly remained the last one in.
Throughout the day, campers helped their teams compete in games and challenges as part of the quest.  At one specific event, teams had to get all of their team members through a rope "spider web" in the shortest amount of time without touching the rope.
As soon as one team arrived at the activity and heard the instructions, a camper who was usually a bit reserved exclaimed, "I know what to do! I've done this before!!"  She then began directing her team, helping lift people through the web, and encouraging them that their team would surely win this activity.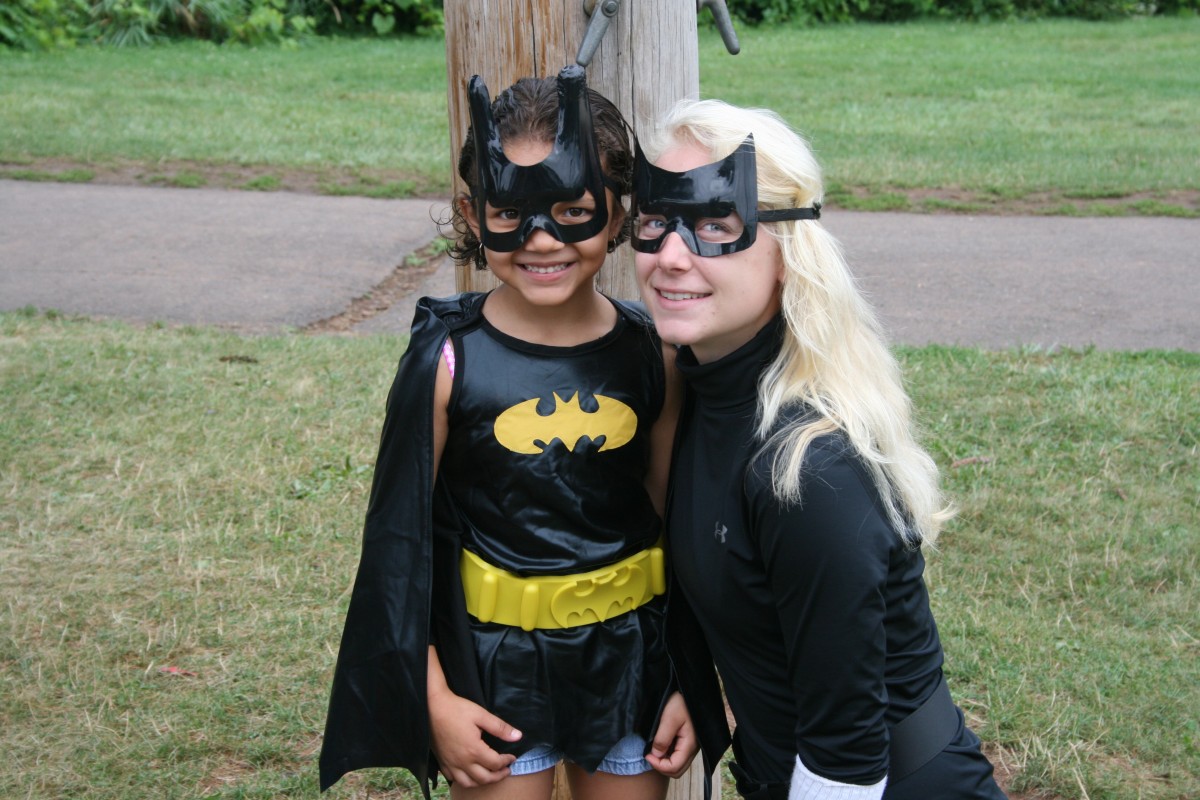 Once her team had completed the challenge, she was met with enthusiastic hugs and high-fives as a smile spread across her face.  In that moment, she was the undisputed superhero of her group.  She had been given the opportunity to lead her team to victory, and she did so with grace and composure.
For most campers, the first camp hero they're introduced to is Richard Sibley, the only camper to catch the Green Gazumba.  As their time at camp continues, they will come to be introduced to more of these camp heroes. For many, it will be their counselor.  For others, their hero is the camper in their group who offers to carry everyone's backpacks up from their cabin.  When I was a Fox, it was my partner who scored the winning goal in our World Cup tournament.
One of the greatest things about camp has always been that it allows campers, even if only for a moment, to be heroes in their own right, in whatever area they excel.  But these campers and counselors aren't heroes simply for carrying backpacks, or befriending a new camper, or helping their team through a web of rope.  They're heroes because they displayed, sometimes in the face of adversity, a dedicated commitment to honesty, teamwork, selflessness, fortitude, and compassion.
These camp heroes are a testament to the virtues that guide us every day at camp, the virtues that are recognized and celebrated with every flag presented during assembly and award given at Campfire.  Most of these heroes don't look for recognition, and instead serve as unspoken role models for their peers, doing the right thing even when it will not benefit them.  They help illustrate that the important thing about being a hero isn't who you are, but how you act- no capes required.